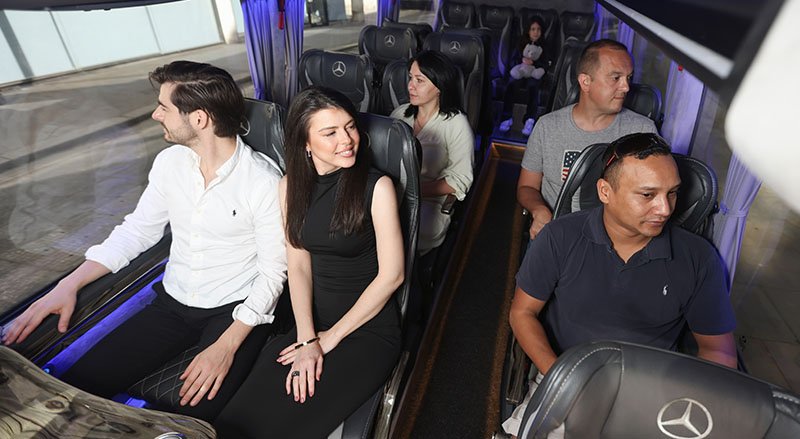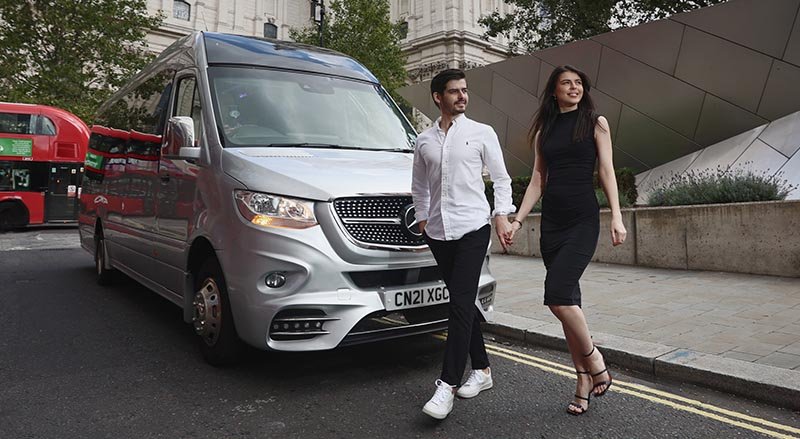 Minibus Mercedes Sprinter in London
To hire the Mercedes Sprinter minibus in London is a great way to reach any point safely and quickly: whether it is a sea coast, another city or a sightseeing tour in London. There is everything you need for a long trip: air conditioning, fresh water, internet connection, the buses are often equipped with a TV, DVD player - you will not get bored on the road for sure.
Premium class minibus with comfortable leather interior and climate control – perfect for chauffeur hire in London, transfer from or to the airport, railway station and long-distance trips both in London and UK.Mercedes Sprinter is a large, comfortable minivan with a modern and simple interior design. A comfortable minibus with a capacity of up to 12-16 people is designed to transport people, both in the city and beyond. Due to the comfortable seats and high-quality upholstery, staying inside the car is a great pleasure. Modern equipment combined with a powerful engine will give much comfort while driving.
All our minibuses are connected to the Web, allowing the passengers to keep in touch and the manager monitoring the location of each car and all its indicators in real time, including fuel level and frequency of maintenance. In addition, the manager will be able to send tasks online to the chauffeur or groups of chauffeurs, redirecting logistics flows and monitoring the efficiency of car use.
A short trip or a long drive to the country: The Mercedes Sprinter is always extremely comfortable. The reason is not only its comfortable seats for long trips or the harmonious design - the new generation of Sprinter offers a number of new safety systems, which actively promote traffic safety.For many years, Mercedes-Benz has adhered to the concept of accident-free driving. The integrated safety concept covers all necessary phases of road safety - from safety while driving and in dangerous situations to protection in the case of an accident and its reduction. The new Sprinter also fulfils this task thanks to the new design and technical safety equipment.
Fresh water, press, a Wi-fi access point are intended for each client.With us you can count on such advantages of using a transfer with a chauffeur: complete safety while driving, punctuality, high professionalism and a representative type of chauffeurs, open pricing of each trip. The service is carried out according to the schedule of each client, clearly and without delay.
You can order this prestigious car for your trips in London whenever it is suitable for you - our company works 24 hours a day. Each client can feel the maximum comfort. You can order the car for the following services:
airports transfers
chauffeur for excursions
corporate travel and road show transportations
personal chauffeur