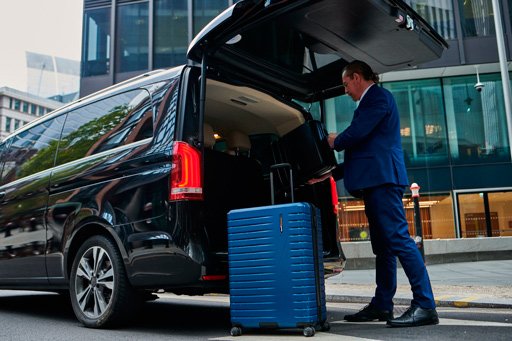 Mercedes V class in London
Mercedes-Benz V-Class was conceived as a car that can satisfy all kind of needs. We can see it as a family car, and as a minibus for hotels and travel agencies, and as a tool for entrepreneurship. Moreover, in terms of size, equipment and so on, it's something like between the Viano and R-Class models. Well, the design of the minivan deserves some attention. High-quality materials (leather, wood and aluminum), which are decorated with the interior, bring their own comfort, comfort and ergonomics. As for the equipment we should mention electric driven sliding doors on the right and left, a touchpad that can recognize gestures, parking assistance system, adaptive cruise control, adaptive steering control and numerous safety systems.
The gorgeous salon of the Mercedes-Benz V-Class car looks very stylish. The dashboard is covered by faux leather. The decoration repeats the texture of wood. There are up to three options to create soft background lighting that helps to relax after the trip.
The basic model of Mercedes-Benz V-Class is a 6-seater, and all three of its rows consist of a pair of separate seats. Our car is in a 7-seater configuration with three separate seats. For two passengers you can recline the back of the middle section, turning it into a table or armrest. So, if you can sacrifice one seat, you can leave two more spacious seats in the gallery. And who needs a berth can order a one-piece sofa. In this case, the rear shelf will be soft and can be used as a continuation of the sofa. In any of the options, the seats of the third row can be rotated 180.
This car assumes a more business-like interior format - the passengers sit with their faces or their backs forward. The clients usually prefer to not bother with unnecessary physical activity, choosing the option of landing tete-a-tete. After all, it is more convenient to use a folding table in it.
You can order this prestigious car for your trips in London whenever it is suitable for you - our company works 24 hours a day. Each client can feel the maximum comfort. You can order the car for the following services:
transfers to and from airports
chauffeur hire for excursions
corporate travel
personal chauffeur for business trips
There are several climate control zones in the cabin, which are controlled separately. The remote control is located in the ceiling. The minivan is saturated with the spirit of the S-Class. It is like different disciplines of one sport. The V-Class ideology is more representative than a bus. Therefore, there is an appropriate attitude to the organization of the passenger compartment and driving performance, trim materials and a list of advanced equipment. And no matter which of the seven seats you ride, you still understand that you are driving inside a Mercedes-Benz car.