Transfers in London
Since 2000, VIP Tour London has been offering comfortable, brand new vehicles and experienced chauffeurs with polished manners for high-quality service of airport transfers in the capital. Our clients entrust their trips from London airports into our hands. We offer high quality transfer services from the major airports such as Luton, Stansted, Farnborough, Gatwick Airport and Heathrow. Our chauffeurs gathered many years of driving experience and serve with care all type of passengers.

Your flight is constantly monitored - ne need to worry about possible changes and delays. You will be met inside the terminal with a nameplate on request. Either to reach the airport conveniently or travel home after landing - VIP Tour London has the best solution for you. We know how much inconvenience a trip can cause - we gurantee a safe arrival to the appropriate terminal.
It takes more than just expensive accessories to highlight your success and significant achievements. Every detail of our executive Mercedes cars are carefully worked out by the best designers and engineers of the global automotive industry. Famous actors, musicians, politicians and successful businessmen choose Luxury transfer in London. Only new cars with an impeccable interior and excellent technical condition. Only trusted professional chauffeurs who strictly adhere to business etiquette. Transfer from the airport or train station, a business trip to London or GB, or just chauffeur hire in the city - you will always get a high-quality individual service of extra class.

At VIP Tour London you can book a transfer from any of the airports near the capital: - Heathrow, Gatwick, London City, Stansted, Luton, Farnborough, as well as from train stations and ports. Our professional chauffeurs in formal wear will meet you or your guests at any airport or at any railway station with a nameplate. The chauffeur usually arrives 15 minutes before the appointed time. Our manager controls the flow of vehicles 24/7. VIP services at the airports, such as assistance, fast tracks and VIP terminals are also available on demand.
VIP Tour London
quality stadards - Luxury
Heathrow Airport Transfer
We offer transfer services of high quality as well as assistance with luggage in Heathrow. If you are looking for a suitable transfer option to reach London, then you have found it. Do you travel alone, with family, friends or colleagues - VIP Tour London gives airport transfer services of each type 24 hours a day. Save your time with our private airport transfer services, making your travel ideal. Reliability, professionalism, impeccable reputation, the highest quality of services this is what you get at our company.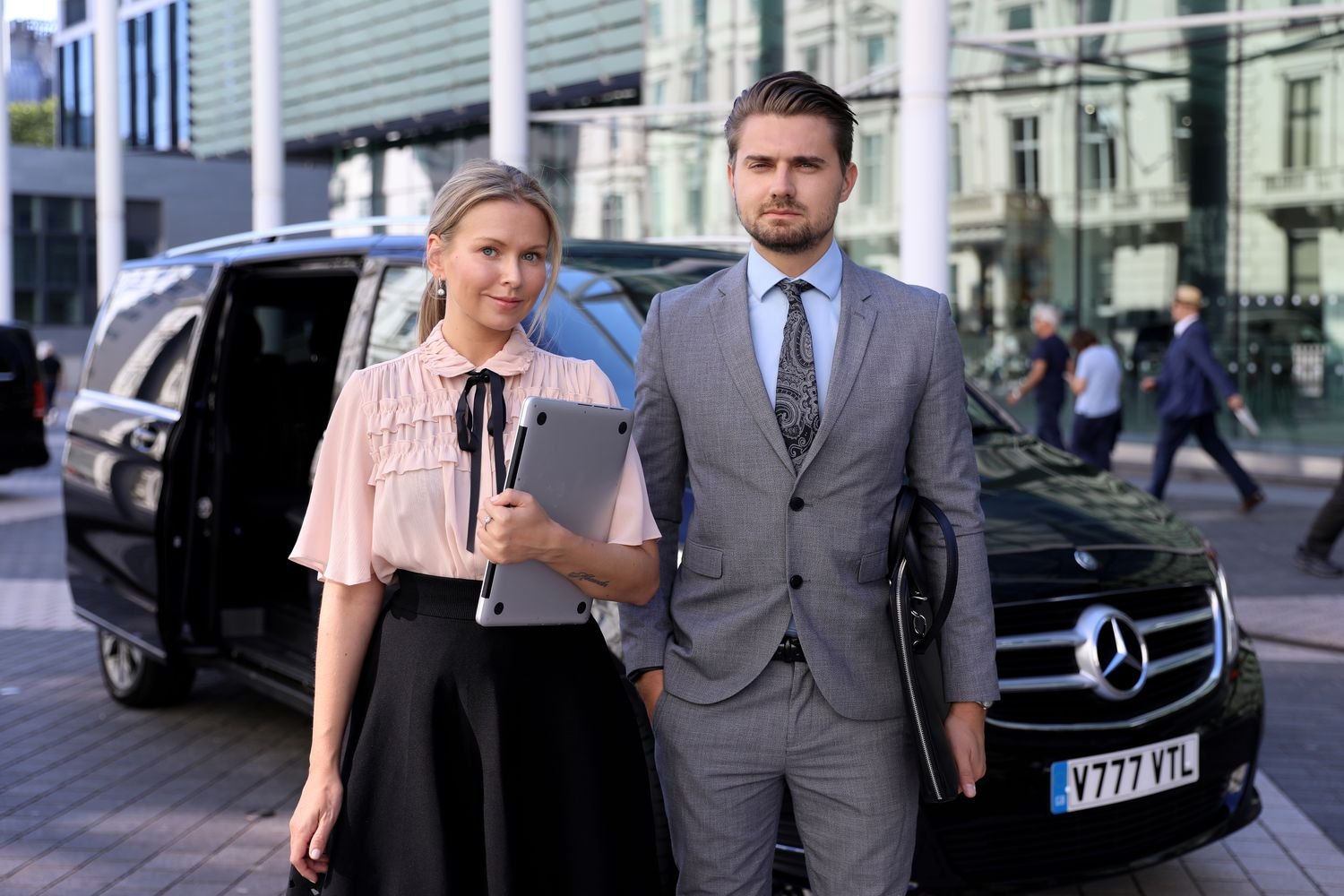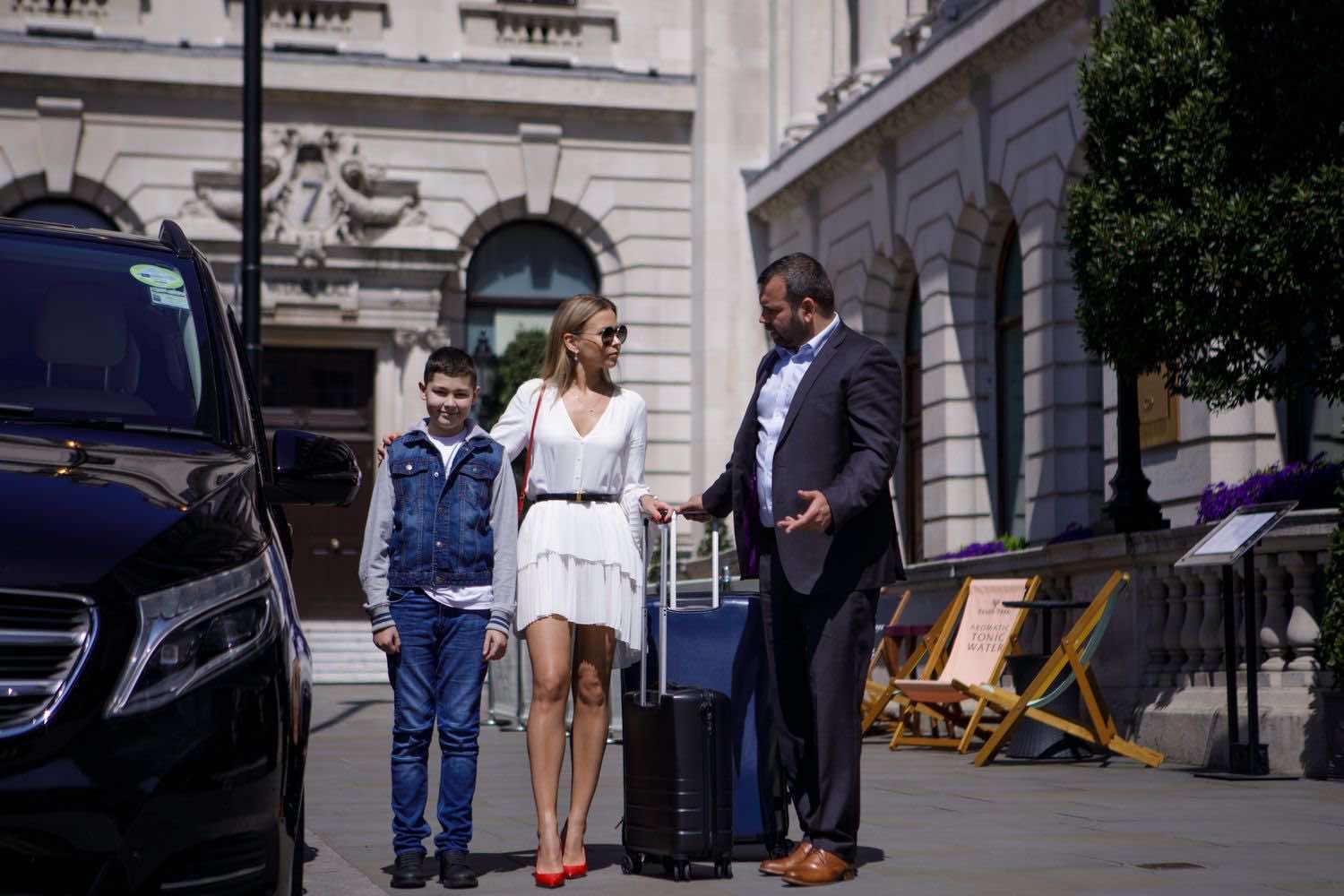 Gatwick Airport Transfer

The second busiest airport near London - Gatwick - is situated 46 km of the capital. It has two terminals, the South Terminal, a bit larger and the smaller North Terminal. About 200 destinations depart from here with top destinations include Malaga, Dublin, Madrid, Amsterdam, Dubai. So how to find a convenient and fast way to get to London? Try out Transfer services at Gatwick from VIP Tour London. We have excellent cars, released at 2017-18 in perfect condition, as well as proficient chauffeurs who perfect city knowledge.

A well-established online flight tracking system ensures that even if the flight is delayed we are going to meet you anyway. When booking a Transfer in Gatwick, be sure the chauffeur will be there fo you for an hour and this time is not charged. We also provide assistance with luggage. When you book your Transfer to/from Gatwick we calculate the time you need for the road, taking into account the conditions, so that you can go through the necessary formalities before boarding your flight.
Farnborough Airport Transfer
The Farnborough Airport is situated near the city of Farnborough in the UK. Currently, flights to this airport are not operated by regular airlines - you can get here only by private planes, air taxi, or flights operated by military aircraft.

In order to get from Farnborough Airport to the city center or to the cities/resorts nearby, you can use the premium transfer service of our company. Our passengers are insured on our journeys, as our company is an licensed London chauffeur company. As a result, the chauffeurs who work with us are all, one by one, officially licensed by the TfL in London and comply with the regulations. Transfers from and to the airports for us are not a hobby but a profession.
London City Airport Transfer

London City Airport is situated at Royal Docks in Newech. This is the fifth busiest airport, serving passengers and aircraft, after the major London airports. With limited area of London docks, and relatively low passenger volumes, The Airport is rather small and has only one terminal with two floors. The ground floor contains reception desks and some service centers, also a staircase leading to security control at the upper floor, after which you can find the Airside waiting area and several more shops.

Stansted Airport Transfer

London Stansted Airport operates flights to 140 destinations in 30 countries, with 19 million people a year. It has one major terminal which is called Stansted Mountfitchet. The airport is a popular transfer point for the passengers of low-cost airlines. As in other London airports, our company offers luxury transfer services at Stansted Airport - only new cars, only experienced chauffeurs. Choose our private airport transfer so you can easily get from Stansted to the capital.
Luton Airport Transfer
Luton Airport is the fifth busiest airport in the country. Most of the airport's traffic consists of low-cost travellers, but there are also a number of charter users. The airlines that operate the most flights at Luton Airport are Wizz Air and EasyJet, along with Ryanair, El Al, AerLingus.

As in other London airports, our company offers VIP transfer services at Luton Airport - only new premium class cars, only experienced chauffeurs. Choose our private airport transfer so you can easily get from the Luton Airport to the capital and vice versa. Many travellers consider a transfer from/to the airport the most convenient form of transportation. We take you exactly to the hotel door. It will cost you less than a taxi, and the trip will be more convenient than by metro.
Подбробнее
Transfers to London Airports